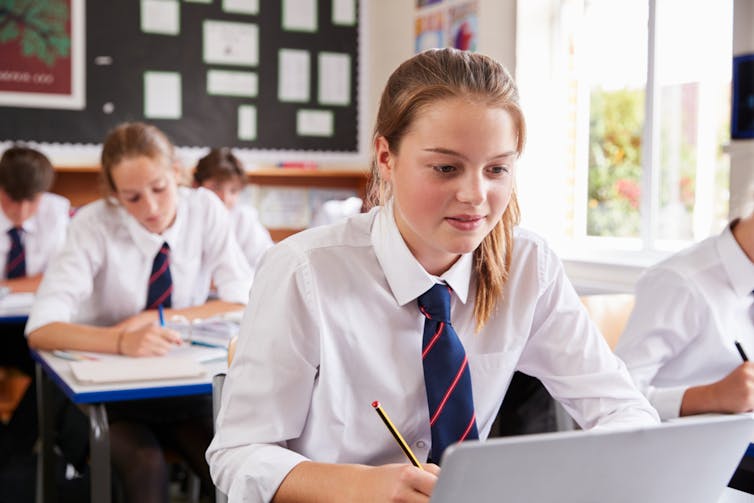 Zareh Ghazarian, Monash University; Jacqueline Laughland-Booy, Monash University, and Zlatko Skrbis, Monash University
Australia's youth are interested in politics and are passionate about issues but, unless we take note of the latest report into civics and citizenship education, their capacity to participate in democracy and shape society in future may be limited.
Since 2004, the National Assessment Program – Civics and Citizenship (NAP-CC) has been administered every three years to a national sample of year six and ten students. It's used to measure students' level of knowledge about subjects including Australian government, judiciary and democratic processes, and explores their attitudes towards civic participation.
The 2016 NAP-CC report has just been released and the results show some concerning, but familiar, trends.
As with previous assessments, the percentage of Australian students achieving the proficient standard remains low. This is a point on a scale that represents what has been deemed as a challenging but reasonable expectation of student achievement for their year level.
The report shows 55% of year 6 students achieved at or above the standard.
More problematic is the fact the rate of year 10 students attaining this standard was just 38%. This is the lowest result on record.
---
https://datawrapper.dwcdn.net/cTttl/3/
---
Civics and citizenship is a government priority
Enhancing young people's understanding of civics and citizenship has been a priority for successive Australian governments.
The Australian Curriculum: Civics and Citizenship was developed in 2012/2013 to provide educators with tools to teach students about democracy and civic participation. This curriculum is delivered to students from Year 3 to Year 10. It's based on the principle that informed and committed citizens will advance a robust democracy and schools play a vital role in preparing young people for the responsibilities of adult citizenship.
---
Read more: National curriculum review: experts respond
---
This latest report into civics and citizenship education is the first opportunity for educators to see how students are performing under the new curriculum, and the results are disappointing. It shows by Year 10, Australian school students don't possess the fundamentals deemed necessary to become active, informed citizens.
So what else should be done to help prepare our young people to participate in the democratic process?
What do young people think?
We have been undertaking research with recent school leavers aged 18 and 19 about their preparedness to participate in the Australian political process.
Many have told us they're interested in political issues, but are uncertain about how the system works.
They also believe more could've been done to address this knowledge deficit while they were in school.
---
Read more: Young Australians are engaged in political issues, but unsure how democracy works
---
These high school graduates reported, while they could recall the subject being covered when they were in primary and early secondary school, they did not remember what had been taught.
The young people we spoke to suggested civics and citizenship education be extended through to Year 12. Interestingly, they wanted it to be viewed more as a life skill (similar to drug and alcohol education, for example) and not an academic subject.
They said young people need support when they're approaching voting age and it would be useful for schools to assist with enrolment and provide basic information about the system of voting.
As one 18-year-old put it:
The last time that my high school spoke about politics I was in Year 9. I was 14 years old. I'm not voting yet, it's not relevant to me, I'm not even 16. I can't even go to the doctors by myself.
A simple and clear explanation in late high school would help alleviate the feelings of uncertainty first-time voters can experience when they go to cast a vote at the ballot box.
As another 18-year-old said about her peers:
So many of my friends said to me, "which box do I tick?" and, "what do you mean I have to go above the line and below the line?". Basic definitions and terminology is really important.
Where to from here?
The 2016 National Assessment Program – Civics and Citizenship report tells us by Year 10, a majority of school students have little knowledge about Australian civics and democracy. This is concerning, especially as many students don't encounter the topic later in high school, yet they will be required to vote when they turn 18.
We need to ensure all young people have the basic skills required to engage in Australia's political process. As young Australians approach voting age they need simple, clear and practical instructions about the mechanics of how government works and how to vote.

School is the best place to teach this and it should be covered in the senior years. Doing so would help more young people become confident and empowered participants in Australia's democracy.
Zareh Ghazarian, Lecturer, School of Social Sciences, Monash University; Jacqueline Laughland-Booy, Research Associate in Sociology, Monash University, and Zlatko Skrbis, Senior Pro Vice-Chancellor (Academic), Monash University
This article was originally published on The Conversation. (Reblogged by permission). Read the original article.